DueNorth Flat-Coated Retrievers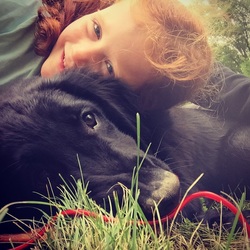 Flat-Coated Retrievers are one of the best kept secrets in the dog world. They are an intelligent, kind breed with a strong desire to please people. Known for maturing slowly they retain a puppy like behaviour well into adulthood. A perfect family dog, they adore children and yearn to be with children of all ages. However, they are first and foremost a retriever and carrying things in their mouth is a part of who they are.
They are well suited to a variety of sports including hunting, retrieving, tracking, obedience and agility. Flatcoats are very elegant retrievers with a strong love of water. They are invariably sweet and kind and not at all given to guarding behaviour. However they do make good watch dogs.
"Eager and quick to learn, Flatcoats are best trained in short intervals as they may become bored with repetition. This breed retains its youthful, puppy-like outlook and demeanour well into old age. Paddy Petch, author of The Complete Flat-Coated Retriever, refers to these dogs as the "Peter Pan" of the retriever breeds, given they never quite grow up."
---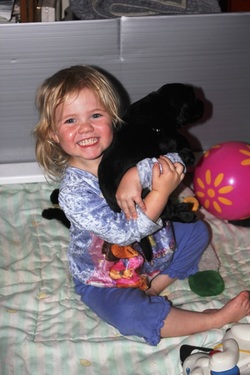 "Purposefully bred purebred dogs brought to you by CKC preservation breeders. We are so proud of what we do for the next generation of the happy, healthy canine family."
​"We see ourselves as conservators of this fine old British breed. In this day of designer dogs, that are bred only for money, our dogs are bred to meet the requirements set out in our breed standard including biddability and desire to work. We are passionate about our dogs as a fine pure breed."

We breed quality not quantity. At DueNorth we strive to produce dogs with hunting and retrieving ability and the structure that they need to do that job. We want our dogs to be first and foremost the best all round family pet. We prove our dogs in the field, obedience and in tracking as well as in the show ring in an ongoing effort to produce the best dogs that we can. We strongly encourage all pet owners to seek a sport that they can enjoy with their Flat-Coated Retriever. Beginning in 2017 all of our breeding will be guided by DNA results done at the University of Southern California. This testing is part of the Genetic Diversity project designed to produce healthier dogs with better immune systems.
We are proud members of the Canadian Kennel Club, The Flat-Coated Retriever Society of Canada, The Flat-Coated Retriever Society of America and others. Pat is an obedience instructor and an evaluator for the Canine Good Neighbour program.
Located in the heart of the Kawartha Lakes we are about 150 kms northeast of Toronto and about 35 kms from Peterborough, Ontario, near Lakefield.
---